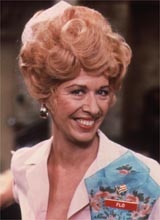 I think I'm turning into a curmudgeon. I find that I often don't trust the service offered by young people anymore. I'm almost ready to call them 'whippersnappers'. Case in point, there's a breakfast place we enjoy in San Ramon called
Katy's Korner
. A few months ago, I discovered that they make really yummy Huevos Rancheros, which is three eggs, simmered in salsa, and served on a big plate with black beans, tortillas, sour cream, and maybe some avocado. Mmmmm. Yummy. The waitresses at Katy's Korner all seem like they've been there awhile, they know what they're doing, they know what they're talking about. They're not old, by any stretch, but maybe mid 30s to young 50s.
Enter
Katy's Kreek
into the equation. This is Katy's Korner's new little sister, located in downtown Walnut Creek. I wrote about it
back in June
. We have been there a few times so far, and I was happy to see one of the waitresses from Katy's Korner on the staff, showing the new employees the ropes.
Well, last week we went to Katy's Kreek for breakfast, and the Korner waitress was nowhere in sight. Just all new folks. OK, that's fine. Except it didn't really occur to anyone that Ted might like some more coffee. We had to look all around, and never really could catch anyone's eye. You know how, when you go to a restaurant with talented staff (any type of restaurant, any age of staff), they know to look at the customers...you can catch someone's eye as they walk by, even if you're not in their station? Yeah? Well, not so much these days, I'm finding.
So, I ordered my Huevos Rancheros, and instead of coming in one big melty-looking mess of goodness, the eggs were on one side of the plate, and there were what tasted like lukewarm canned refried beans on the other side of the plate, and a couple of tough tortillas on the side. Sigh. I couldn't really catch anyone's eye, so I ate it. And the eggs still tasted good. But the experience put me off. I asked the waiter, when he finally came with more coffee for Ted, when they had changed the Huevos. He said, "I don't know, I've only been here for 3 days." And then he went away. I looked around the restaurant, and the whole staff looked to be under the age of 25, not really interested in being there, not really looking to see if anyone needed anything, and I kind of gave up. I pretty much decided I wasn't going to find anyone there, besides myself and perhaps my lovely dining companions, who gave a crap about the fact that I didn't like the new way they're preparing the Huevos. Is that high maintenance, to want to tell someone when you like or don't like something? Seems like the owner might be interested in that kind of information.
Just an aside, here, to let you know that I haven't ALWAYS been a curmudgeon. There are times when I've gone places with a young staff, and that young staff is knowledgeable, interested in providing good service, and dedicated to doing their job well. It just seems like it's becoming more and more rare, and more and more often in my service industry transactions, I feel like I'm at the Home Depot, TRYING to find someone who either knows something, is willing to find out something for me, or at least is willing to PRETEND to give a shit.
The upside of all of this? I've learned to make my own Huevos Rancheros. I buy some good salsa from the refrigerated section at the store. I heat a bit in a frying pan. I crack my egg into it. I let it simmer. I pour a little bit of salsa over the top of the egg (I don't like sunny side up eggs laying there, just looking at me...I'm like
Frances
that way). I top it with a bit of Mexican cheese, let it get melty, and eat it with some tortilla chips, kind of like egg nachos. Mmmmm. When I told
Cherry
my tale, she said, "And at least if you change the way you make them, you'll know why." :) Exactly.